Yoga
"Yoga is a physical practice that integrates mind/body/breath to find the deepest truth about who we are.'"
If you can breathe, you can do yoga! Many people start yoga for the practice of poses and stay for the benefits of better sleep, less stress, fuller breaths and more joy in addition to a stronger and more flexible body.
Yoga has been shown to:
Manage stress that we encounter every day
Assist the respiratory, digestive, circulatory, immune and nervous systems to restore and maintain a healthy body
Empower the mind to be calm, alert and focused
Increase physical strength, energy, flexibility and balance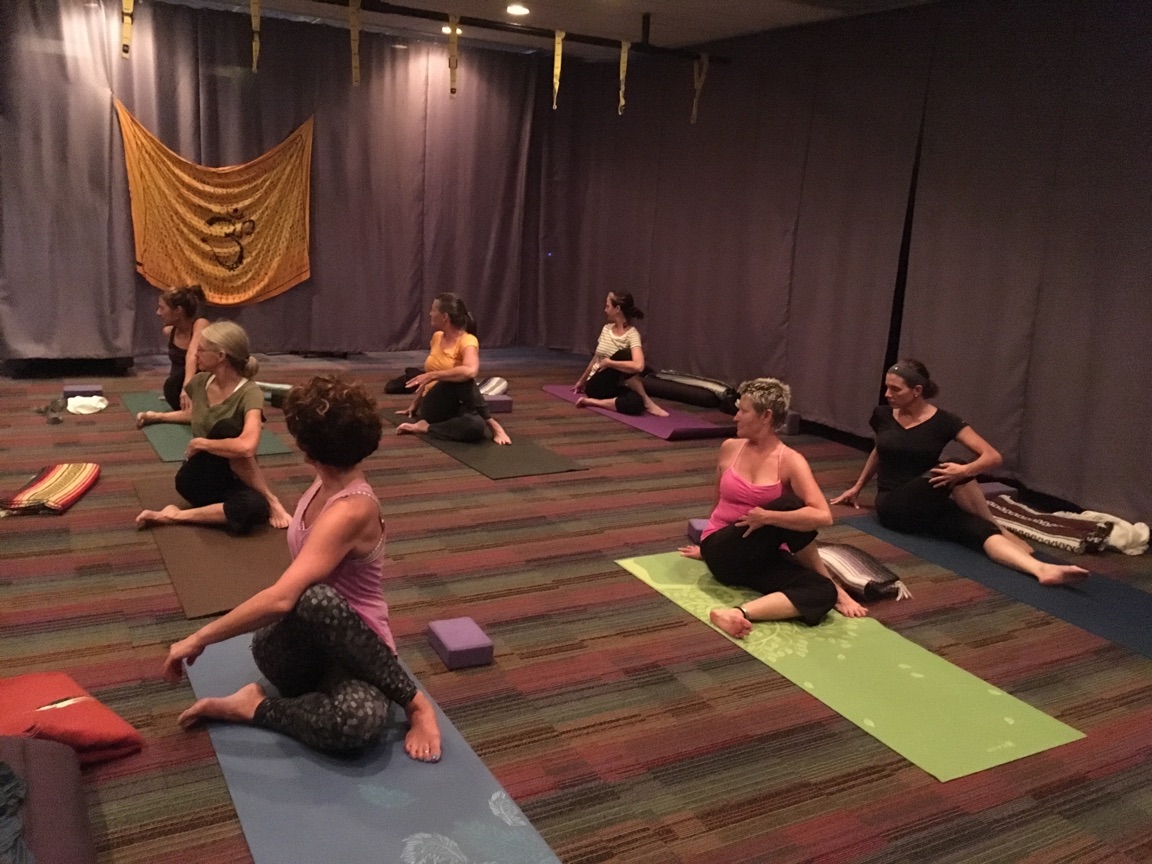 In our small nurturing classes (12 student max), we combine knowledge and experience in a gentle yoga practice utilizing time honored yoga postures to bring you into vibrant, sattvic balance. Sattva is a sanskrit word for tranquility, wholesomeness, harmony, lucidity and light. It is a state of being which comes from purity of mind and leads to an awareness of our connectedness to all things. By incorporating yoga philosophy and the principles of yoga's sister science, Ayurveda, we help you understand what helps you stay balanced on and off the mat. With time, flexibility and strength in both the mind and body are achieved as you journey inward to discover your highest Self.
Level 1 Yoga/Gentle Yoga
Working with the breath, we lubricate joints and open hips and shoulders. Learn proper alignment and practice basic hatha yoga postures in a nurturing, non-competitive environment. Perfect for beginners and those who enjoy a gentler practice. Drop-ins welcome based on availability. Click here to view class schedule & sign up for class via MINDBODY.
Hatha Mixed Level
Improve flexibility, increase strength and enjoy better body alignment with a flowing practice that removes chi or prana stagnation and focuses on movement, muscular contraction, and balance. Each 8-week series we explore a different yogic philosophy and build competency and knowledge of a yogic theme. Drop-ins welcome based on availability. Suitable for all levels. Click here to view class schedule & sign up for class via MINDBODY.
Yin/Restorative Yoga
A deep and harmonious practice that unblocks the flow of vital energy throughout our bodies. Practice the full range of joint flexibility. Stretch and lengthen connective tissue through moving slowly and holding poses for several minutes while relaxing the muscles to release chronic held tension. Restorative Yoga is a form of therapeutic yoga and is considered to be an antidote for stress. It is practiced on the floor with longer holds using props to more fully relax. Each class ends with a ten minute meditation. Drop-ins welcome based on availability. Click here to view class schedule & sign up for class via MINDBODY.
Recovery Yoga
Addictions and co-dependency can harm our physical and spiritual health and deeply affect those who love us. We all want to be truly happy, joyous, and free. But addictions can rob us of our freedom. Hope can be found through the calming and centering effects of Yoga. Yoga can help us to heal from the inside out.
Through a gentle awareness of the body, a focus upon the breath and an exploration of the twelve steps on the mat, we learn coping mechanisms that help us through our recovery off the mat in our daily lives. Classes end with restorative yoga and meditation. Come prepared to open your mind and your heart. This is a donation only class, but a $5-$10 donation is suggested.
Class Fees
$15/class with a Class Package. $18/class Drop-In
***Sunday Recovery Yoga - Donation only class. $10 suggested
We encourage you to exercise consistently. It is your responsibility to come to class! To allow you some flexibility but still hold you accountable to attend class regularly, each Yoga class package has an expiration date. Please check when you purchase your package. You are welcome to attend any classes you want to each week.
Unlimited Class Pass
$150/month (includes Yoga, Strength Training, & Pilates Mat classes at the Grand location & Total Barre at the EP True location)
Cancellation Policy
FBD-Grand Ave Location
Classes:
Clients who are signed in for Strength, Pilates Mat, or Yoga classes must cancel their place online in that class at least 24 hours in advance of the class time. Any class cancelled less than 24 hours in advance will be charged in full.
Unlimited Class Pass:
Clients who use an Unlimited Class Pass are allowed 2 late cancels a month. After that, a late cancellation fee of $10/class will be charged to your account.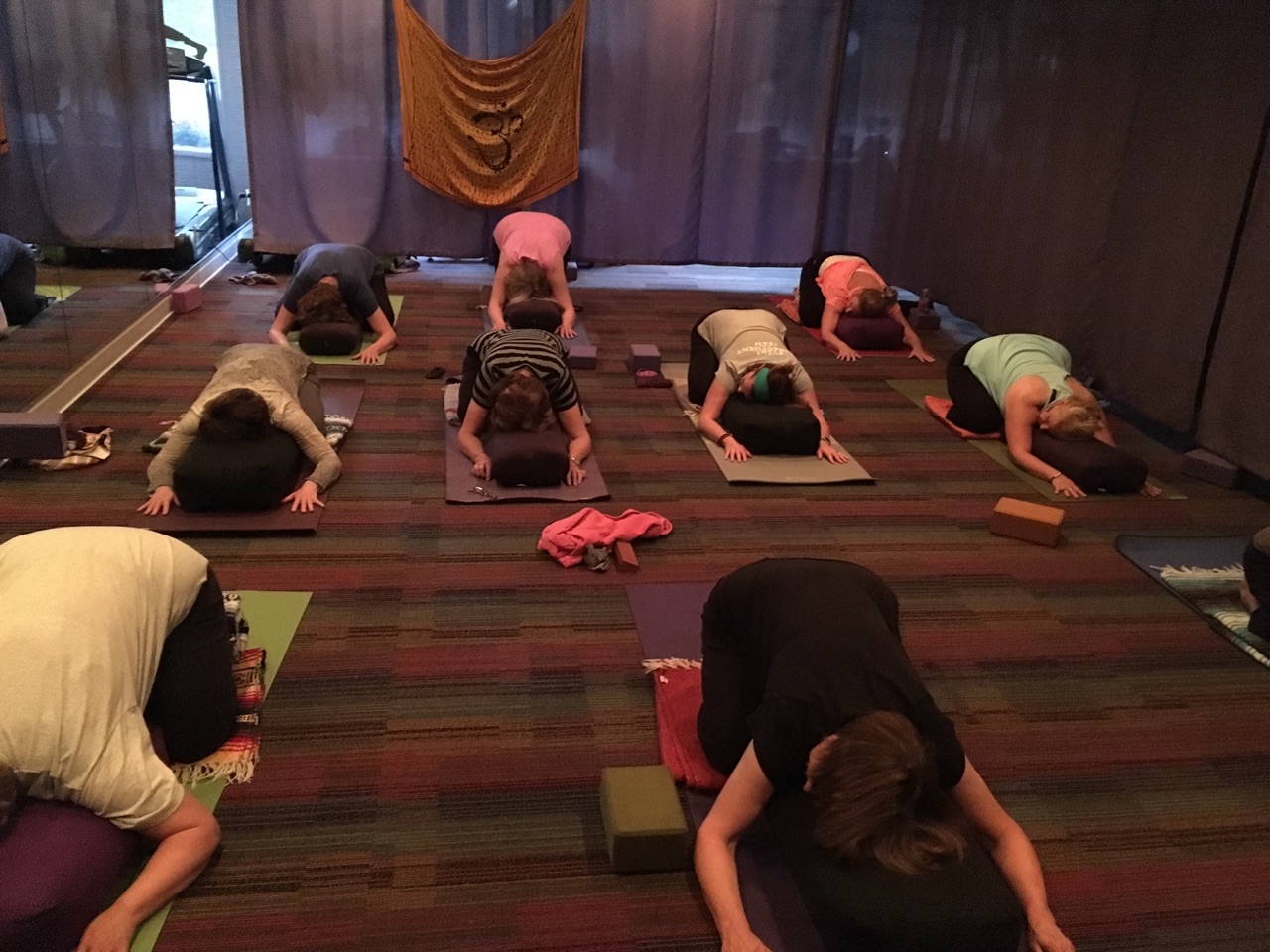 Oct through June
Sunday 10:00am Hatha Mixed Level
Sunday 11:30am Level 1/Gentle
Sunday 1:00pm Recovery Yoga
Monday 8:30am Yin/Restorative Yoga
Monday 5:45pm Yin/Restorative Yoga
Wednesday 8:30am Hatha Mixed Level
Wednesday 5:45pm Hatha Mixed Level
Friday 8:30am Hatha Mixed Level
WHERE: Studio West- FBD Grand Ave.
June through Sept
Monday 8:30am Yin & Restorative Yoga
Monday 5:45pm Yin & Restorative Yoga
Wednesday 5:45pm Hatha Mixed Level
Friday 8:30 am Hatha Mixed Level
WHERE: Studio West-FBD Grand Ave.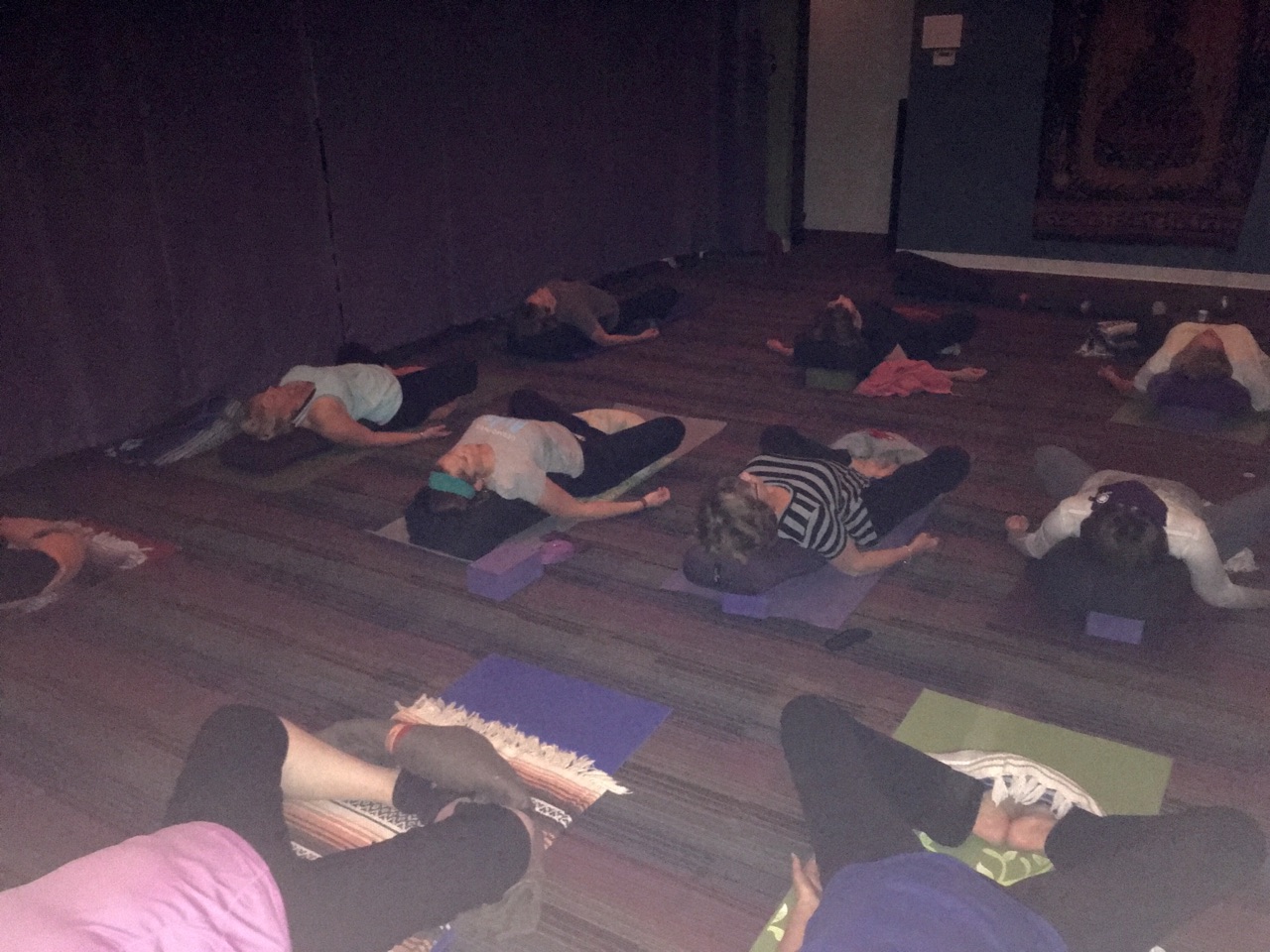 Private Yoga
Private instruction is useful in developing a home practice and in learning to adapt group class postures to serve your individual needs. Students frequently want to practice yoga more often than they can come to group classes. Practicing at home is a useful and cost effective supplement to group classes at the studio. A home practice consultation includes evaluation of your personal goals, strategizing how to make your practice consistent, and a written practice plan. Mary guides you through the practice once so you leave familiar with how to practice on your own safely and effectively. Home practice consultations are most effective when done in conjunction with group yoga classes.
Group class students frequently benefit from personalized help to deepen their yoga practice. Coaching sessions include feedback on how to properly perform yoga postures and adaptations for the client's individual goals and body. Students who have attended coaching sessions report that the sessions help them make huge strides in improving their yoga practice.
WHEN: By Appointment. Contact Mary St Onge
WHERE: Studio West-FBD Grand Ave.
FEES: 60 min consultation $75, standing weekly session $65
Click to purchase
What our clients are saying...
I love coming to class, each class is different, so the interest I have, and my muscles have, keeps me coming back to see what is next. The personal attention and the smaller size classes are wonderful, the instructor lets me know if I am doing the exercises correctly. My most noticeable benefit, other than feeling so much better, was skiing this past winter, I could do a complete run without stopping, something I hadn't been able to do in a long time. A positive attitude by both the instructor and the class makes this something I don't want to miss.
– Strength Class Client
I like the classes at Fitness by Design because they are rigorous and demanding, yet carefully planned and monitored to combine strength building and some aerobic components. The instructors are attentive and well organized, so I am confident that I am doing the exercises in the most effective and safe way. The classes are varied enough to remain interesting, but there is enough consistency to create a sense of real progress over time. I am not always happy while actually doing the class, but I am always glad to be there and sorry when I have to miss! I know I've gained a lot of strength and flexibility - and I've had a good time as well!
– Kathy Eckhouse
Fitness by Design has been exactly what I needed. I am so thrilled that I found you all. My trainer has been amazing, I adore her and we have so much in common... plus she's subtly kicking my butt. And what an amazing soul Mary St Onge is! Joining your establishment has been one of the best things I've done for myself in a really long time. Completely worth the commitment, time and money.
– PT client
I have felt very comfortable and welcomed at your studio. Because I am "dripping wet" at the completion of each class, I know I am certainly benefitting from the classes. I appreciate the cleanliness of your studio, availability of water, a prompt starting time and your professionalism. I like that you "mix up" the routines and find them all challenging......extremely! Am I dying to come to class........no. Do I feel empowered, happier, and full of energy at the end of each class.......yes. Thank you, Barb, for wanting feedback. That speaks volumes about you and your business!
– Strength Class Client
I started attending Barb Mendoza's strength class once per week just 4 months ago. I also decided to train for another marathon near that time. As a woman in my 50's, I found the strength class to significantly develop my core and overall strength and I believe this really helped me throughout the marathon and, in particular, in the last 6 miles. Barb is very good about watching individual technique within the group class and offers specific feedback to gain the most benefit. I really appreciate that! I completed the marathon taking 5 minutes off of my previous marathon time and qualifying to run the Boston Marathon!
– Strength Class Client
I simply can't imagine facing the challenges in my life today without the weekly care and feeding of my physical and spiritual yoga connection with Mary St Onge. I had dabbled in yoga via DVD's, but didn't know how important the in-person instruction can be. Mary takes us all where we are, knowing every day is different, and helps us learn to acknowledge, address and diffuse the physical and mental distractions that impair our clear sense of purpose. Although that may seem a little deep, every once in a while, I just have a practice that lets me tune out the world and breathe. I am so grateful for Mary's loving leadership and her direction that inspires me to challenge myself as we practice together. Still striving for flexibility.
– Margaret Buckton
If I can point out one obvious gift from God, it's having Mary St. Onge as my yoga instructor. She's a perfect fit, like a tailor made suit. She does not merely go through the motions of yoga. She plants seeds of wisdom, she explains the physical/emotional benefits of the yoga poses and is always mixing it up so you are constantly learning. I love how we actually breathe through poses slowly as opposed to sweeping through them like a hectic day. Mary is passionate about what she teaches and with that kind of energy, you get so much more from your practice. She's awesome!
– Yoga Student
One of the best decisions of my life was to start personal training at Fitness By Design. I feel so much healthier, more energetic and have a more positive outlook on life. What could be more important? If you are looking for a personal trainer, you have found the very best with Barb Mendoza. She deeply cares for every client and customizes a program that delivers terrific results.
– Client of Barb Mendoza
I started practicing yoga at a very vulnerable time in my life and in Mary's classes I have learned how to heal myself from within and that it's ok to take care of me first.Through the practice of yoga under Mary's guidance, I have gained more confidence in myself to handle whatever life sends my way. I feel such inner peace every time I leave one of her classes that I can't wait for the next one. Mary is very passionate about yoga and brings that passion into every class she teaches. I highly recommend Mary to anyone who is looking for peace and serenity in their life.
– Carol
Last year, I decided to take more initiative with my health. I have been working out with Barb once a week and have recently added 2 fitness classes. I've been very adamant about taking this slow and steady- I want to change how fitness occurs as a long-term commitment. I can say that the variety of activities I participate in through FBD and the exercise I do on my own have really made a difference in my daily life. I'm stronger, more fit and have even noticed that my clothing fits better. Fitness By Design has been an all-around great addition to my life.
– PT Client
I am really enjoying my yoga classes with Mary. I've never done yoga and I couldn't have asked for a better instructor for my first experience. Mary is fantastic - she has a very calming effect on my mind and body - can't wait for Monday evenings!
– Client of Mary
As a mother of 3 young boys, it is difficult to find time to work out. I know that when I work with Barb, I will get maximum results in the minimum time. Barb has learned a lot about me and knows what to focus on so I get the most out of my workout. She is incredibly motivational and I appreciate her dedication to, not only my health, but my families' health as well.
– RKM, West Des Moines
Yoga's a great way to exercise & relax both the body and the spirit.
– Karen, Client of Mary
I have been working out with Tim O'Neil since the first of May, 2005 and achieved great results!! Overall, I have lost 5% body fat, 10 pounds fat mass, and 8.75 inches in measurement. I have tried many diets and programs from Atkins to Weight Watchers and have never achieved long-term success. Tim provides great leadership, a very positive attitude and raises the bar each month. I am confident he has helped me fundamentally change my behavior and my improved appearance, energy level and overall health is permanent.
– Steve L., Client of Tim
My lungs always feel so expansive the next day, my brain is calmer, and I've lost 9 pounds! There's just something about mindfulness, energy, and quiet that is so wonderful. AND I would like to say: You, Mary, are the BEST! I've been to other yoga classes, and they just don't have the same "spiritual" tone. But it's not preachy... just simple and nice. Also, I don't ever feel that I am in danger of injuring anything. You always focus on just doing what you can without hurting anything which is perfect for me!!
– Client of Mary
I have been going to strength training classes for over a couple of years now. I enjoy exercising with a nice group of people and have found the class very helpful at both improving my running and preventing injuries. Best of all....I can now see my triceps
– Strength Class client
You go above and beyond to give everyone individual attention and your dedication to making your studio great is obvious. I have worked out at many places in the last 30 years and hands down yours is the best I've been to. The classes are never the same and always challenging. I love going!!
– Kathy
My journey to a healthier life has been a slow one, and Barb has supported me all the way, pushing me when I needed it, helping me noticeably increase my balance, agility, functional strength, and confidence. This year I decided to focus on weight loss. Barb held me accountable to that, celebrated small successes with me, and helped me keep the inevitable setbacks in perspective. I've lost 20 pounds, and we're still going!
– Client of Barb
You have the best staff ever, Barb! So grateful to have the opportunity to improve my barre practice at FITNESS by Design!
– Private Client
Just wanted to let you know how much I've been enjoying the mixed-use yoga classes with Mary! It's a highlight of my week and I THINK I may be progressing a bit in my practice -- it's not as foreign to me now, and I've even ventured closer to the mirror and the front of the room. :)
– Yoga Client
I just LOVE Pilates. I can actually tell a difference in my core with just the few classes that I have had with Julie. Julie is very thorough and explains everything and what everything actually does. She is also very patient with me because there are some moves that my hamstrings will not allow me to do and of course, I am not very flexible.
– Pilates Client
Just loved the work with stretch bands, as did others. It was a hard class, harder than usual, which I think we all want. And as older ladies we all have problems with opening up our hip flexors and staying limber. I think we need to all sweat a little bit more too!
– Kathy
I liked the Tuesday night mat class a lot. Janice is always appropriately challenging and is great at cueing. She is a real pro! I was concerned that I would be sore doing Pilates the same day as Strength and it hasn't been a problem.
– Diane
We're both really happy with how things are going. Amy makes it fun and pushes us, but is also attentive about any pain spots and making sure we don't aggravate anything.
– PT Client
I joined FBD in late June and I have lost around 8 inches with my trainer, Janice. I find the experience very rewarding and believe I have increased my stamina and strength. I will continue on this path and see where it takes me. I can be a fairly impatient person as far as results go , but know Rome wasn't built in a day....so it's full steam ahead!
– PT Client